Howdy folks! It's been a while, hasn't it? Well-- I decided the lapse in absence and the general deterioration of the group weren't going to keep me away! So-- I'm upping the anti with challenges meant to get you folks stretching those art-muscles.
There will be sets of challenges to come, focusing on specific goals to "retrain" yourself or simply keep yourself limber, in a drawing sense. The major focus of the next few weeks will be on Life drawing, pushing drawing volume and weight in forms, and loosening up the way you draw-- Getting away from "Classical standards" than can freeze up your drawing senses.
LIFE DRAWING CHALLENGE: WEEK 1
Let's start out a little simpler, getting those muscles working. Your task: Life draw/ figure draw everyday this week, filling up at LEAST one page for each day. 3 figures a page MINIMUM.
Criteria to remember in your drawings:
Full bodies
DON'T hide hands and Feet
DON'T draw any figure for longer than 3 minutes-- these are GESTURES
Focus on the feeling of the pose-- Action words/verbs are great to use to get a sense.
No "head shots" --again, Full bodies!
Clothing is optional-- Life draw/ figure draw wherever. In class or out of Class, but no pornography.
Allow yourself to exaggerate proportions
Don't be precious with your drawings-- put down lines quickly
Color is allowed, but keep things simple for now
So-- For those of you partaking in the Challenge, Or who are interested in partaking and would like to Join the Open Crit Blog, (email me at my info in the corner) The challenge is due next Saturday, DECMBER 10TH, when the next challenge is posted. Please upload your work and share to the site.
IMPORTANT NOTE::: In the HEADER of your blogpost, please mark crit-welcomed posts with a "C" (crits) and non-welcomed posts with a "NC" (no-crits)
RESOURCES/ INSPIRATIONAL IMAGERY:
(Burne Hogarth)
(Egon Schiele)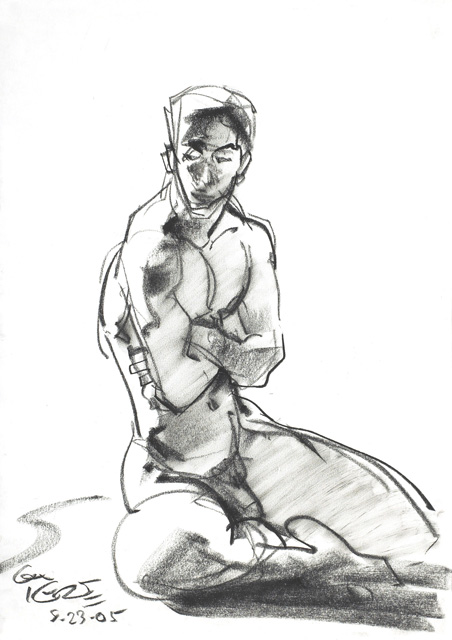 (Glen Keane)
For those of us who ABSOLUTELY cannot get out and find a living human being Anywhere withing a 100 mile radius:
http://www.pixelovely.com/gesture/index.php